3.03.21 3 mins read
Motion Design & the Modern Game: Social Media
We're kicking off our three part series on motion design & the modern game with a look at social media – how teams are utilising animated video content to engage with fans.
There's a few things you're very likely to find at a football club these days; tiny shin pads, questionable top knots and an active social media team.
Twitter is such an integral media outlet for the modern game, it's funny to think that Manchester United only signed up in 2013. Liverpool's first tweet described their difficulties in sourcing a cameraman.
Social media has offered clubs a direct way in which to engage and excite supporters. Analysis, injury updates, transfer rumours and off-pitch action during the week, whilst at the weekend acting as a 2nd screen accompaniment to the game. Which brings us to motion design.
Animated graphics are dished out alongside the action to amp up social feeds. Short, looping goal celebrations have become somewhat of a standard.
Animated Goal Announcements
The post above see's Arsenal jumping on the opportunity to generate income from these animated spots, collaborating with PES to create motion with a nice mix of 3D and 2D techniques.
A few teams look further than goals in their use of motion graphics. Some clubs are equipped with library of animated announcements for a various points in the game; kick off, half time, substitutions and in the case of Southampton, decent saves.
Sales can go to the wire before transfer deadlines take place, so it makes sense to use animation as an exciting alternative to video when it comes to social media announcements.
Templates can be used as placeholders, ready for names and photographs to be switched quickly as the news of sales come through.
Which team is doing it best?
When it comes to motion graphics, it's Wolves that are, in our opinion, head and shoulders above the competition.
Their fun, unique artwork shuns the trend of repeating text seen at almost every other club, opting for a playful mix of collage, clean graphic elements and tactical drawings that form a consistently strong motion language.
It's not a surprise that Wolves are nailing their social media, considering they had a fresh rebrand in 2018 curtesy of London's Someone.
Rich Rhodes, Creative Director at Someone, is quoted saying, 'It would've been easy to follow a graphic trend, add a colour, simplify it down. But that's not Wolves. We added something dynamic, with depth, something for the future, just like Nuno's men.' This creative direction has certainly been taken forward into their motion design.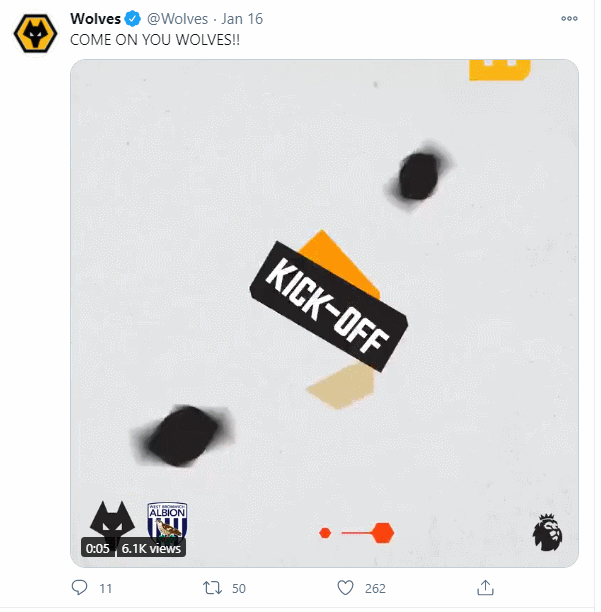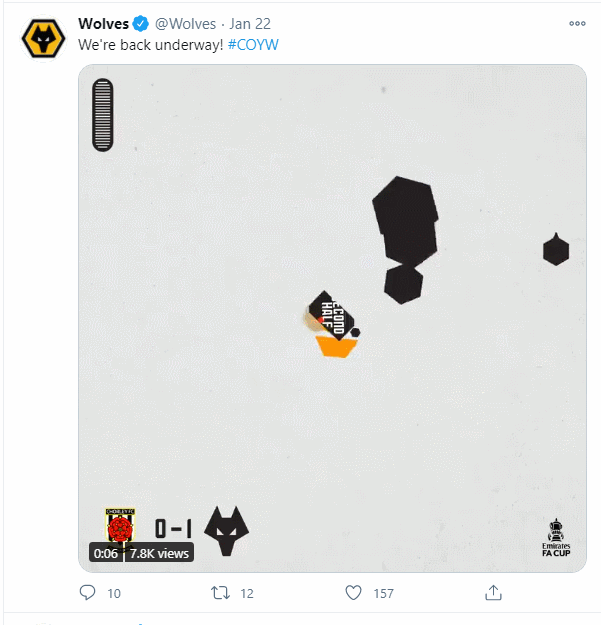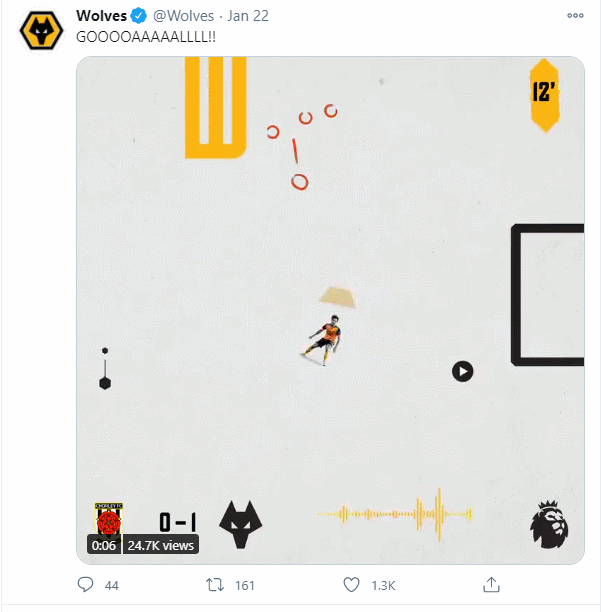 I'll leave you with this animated piece from Man City, getting in on the Sea Shanty action. Motion design at it's finest.
We'll be continuing Motion Design & the Modern Game next week and be taking a look at Virtual Advertising… and digital sausage dogs.