6.04.22 7 mins read
Get to Know… Rosie Bowers
Rosie joined Yatta as an intern back in summer '21 and never left. Renowned in the studio for her hilarious one-liners and crazily strong work ethic, Rosie works part-time at Yatta whilst studying for her Masters in Graphic Arts at UWE. Here, we get to know Rosie and chat about graduating during a pandemic, finding her groove and falling in love with motion.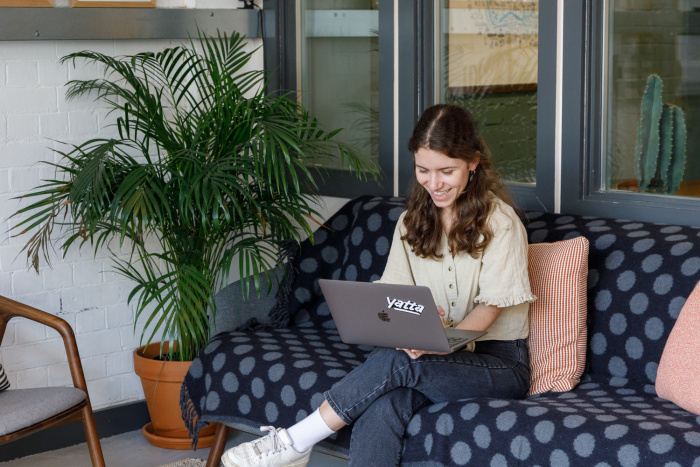 Where does your passion for motion stem from?
At school my two favourite subjects were maths and art. They're obviously quite conflicting, but I enjoyed both the expressive nature of art and the problem-solving element of maths. So when it came to my degree I tried to find a course that combined both. I chose to study Computer Animation at Bournemouth University, which was largely aimed towards the world of tv, film and gaming. 
In the final year of my degree I struggled with knowing where I wanted to specialise. In the spring, the pandemic hit and suddenly everything was shut down. All the resources at university were no longer available and some of my friends struggled to finish their final projects as a result.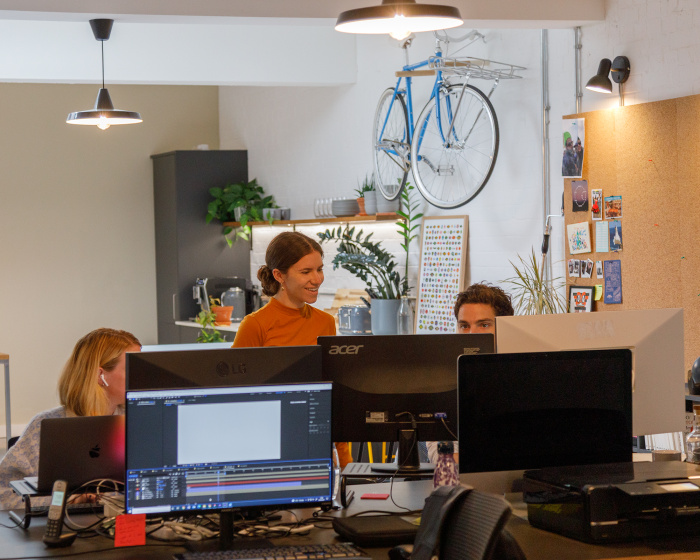 What made you decide to do a masters? 
I had my heart set on living in Bristol after graduating. I wanted to live in a city brimming with culture and Bristol has bucket loads of it… Plus plenty of breathing space. I love that I can escape to Ashton Court for a few hours on a Saturday morning and instantly feel refreshed. 
Due to Covid, a lot of studios weren't hiring – especially not junior roles or internships. I struggled with even getting replies in some instances. The few jobs that were being advertised required skills in Adobe Suite, particularly After Effects. I had barely touched this until the end of my undergrad. I thought I may as well use my time to build up my skills and be ready to work in Bristol when the time was right.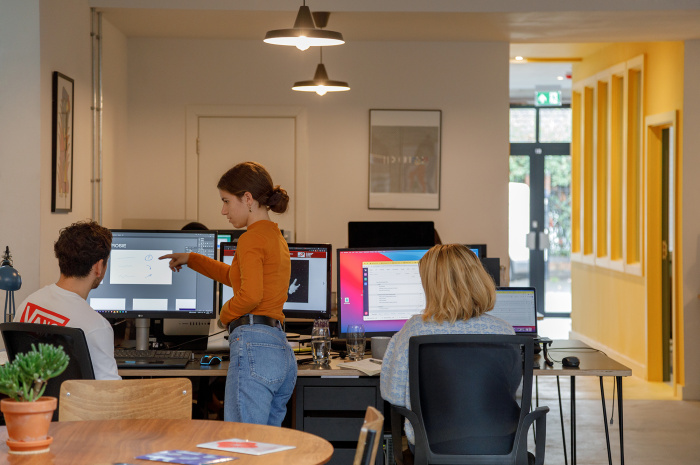 What made you want to take on a part-time job?
Moving to Bristol and starting my masters coincided with yet another lockdown. The first semester of my course was intense and with nothing else much to do I ended up spending about 80% of my waking hours working. But by spring things were looking up. I've previously relied on hospitality and retail to prop me up, but I was keen to find something that complimented my course and allowed me to get a foot in the door.
The spectrum of motion is expansive - from TV idents to an animated short film, motion encapsulates so much.
How did you come across Yatta?
Although I had heard of (sister studio) Fiasco before, I hadn't heard anything about Yatta until I stumbled upon them on Bristol Creative Industries. I was instantly struck by the showreel, which showed a super diverse mix of projects all with this underlying sense of fun and personality. At the time Yatta was hiring for a Mid-weight Motion Designer, which I knew was way out of my reach. But I thought I'd get in touch with my showreel anyway – even if just to get some feedback at this point. When Ben Steers (Fiasco) contacted me to offer me a paid internship, I was so unbelievably excited.
Was the internship what you had hoped it would be?
On my first day in the studio I was handed a real brief from one of Yatta's long-standing clients. I couldn't believe my luck that I was being trusted with something so important and thrown in at the deep end. Although only a few months old at this point, Yatta felt super professional and already had a roster of incredible clients.
Although everyone here is more senior to me, I was comforted by the fact that there were two other interns at Fiasco. Plus there's Claudia, who's the same age as me and also went through graduating during a pandemic. It's really valuable to have this interconnection between Fiasco and Yatta. Sharing lunch as a team and seeing a mix of people all at different stages of their creative careers is inspiring to someone just starting out like me.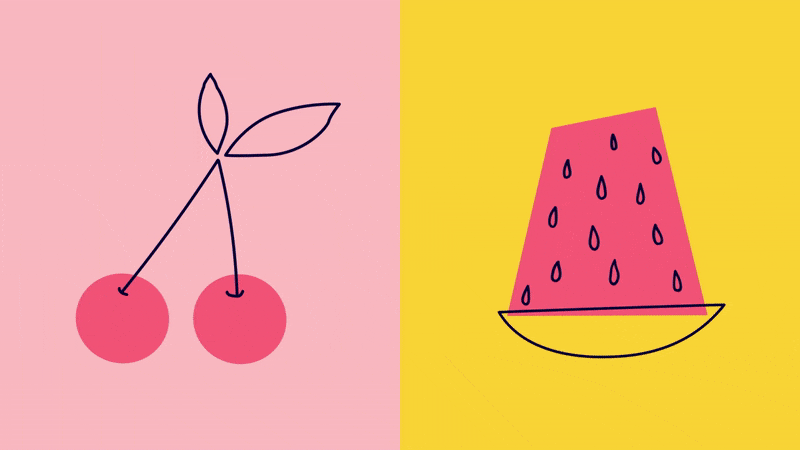 What do you think is special about being part of Yatta?
It was really obvious right from the outset that Yatta's success is a product of Ben's love for motion. It's been fantastic to work under someone so passionate. I'm acutely aware that in a larger studio a junior like me might not get so much direct contact with a Creative Director / Co-Founder. So I really appreciate the way we work as a team and bounce ideas off one another. I honestly couldn't ask for a better group of people to work with. The beauty of Yatta being young still is that we can build it as a team from the ground up. I'm excited to see where we can take it.
The beauty of Yatta being so young still is that we can build it as a team from the ground up.
How does working at Yatta compliment your degree?
Working at Yatta whilst studying has been such a positive experience for me. I try to balance my time as three days at Yatta / two days at uni. I'm looking forward to only having one thing to focus on, to be totally frank! My masters encourages self-led learning so I use my time at Yatta to really push myself and learn new skills. I'm lucky that Ben and Jordan are always willing to teach me things. Yatta has given my degree a real sense of professional context because I can relate everything I learn at uni to a real-life work scenario.
What's next for you?
Since starting at Yatta it's solidified my belief that motion design is the industry for me. I love the limitlessness of motion. It can be expressed in so many different ways and the end results can be so incredibly varied. The spectrum of motion is expansive – from TV idents to an animated short film, motion encapsulates so much. Working closely with Fiasco has given me an insight into how brands are increasingly leaning into motion to tell their brand story and differentiate themselves. Sometimes it's in really unexpected ways. I find this super exciting.
The way we work at Yatta is so playful and explorative that without sounding super cheesy, it feels as much play as it does work.
Right now I'm just looking forward to finishing my Masters and getting stuck into full-time motion work. I'm envious that (Mid-weight Motion Designer) Jordan gets to see projects through from start to finish. I can't wait to see that whole process unfold for myself. Honestly I find the whole prospect of working a 9-5 so exciting! The way we work at Yatta is so playful and explorative that without sounding super cheesy, it feels as much play as it does work. 
Oh, and I'm also looking forward to finally having the time to finish my crochet cushion ☺︎